Sales of Semiconductor Wafers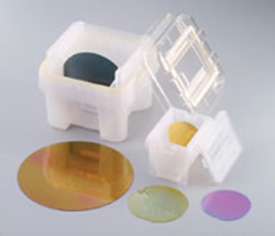 We Sales of semiconductor wafers
has a global network for supplying silicon wafers, quartz wafers, compound wafers, and glass substrates to meet the needs of customers. We can also supply tailor-made products. We proposes the most cost-effective products depending on the customer's application. The silicon wafers, which we use for our own products too, inspected in the clean room. Custmers can rely on the substrate materials we supply.
-Silicon Wafers-

For semiconductor and for optical communication, offers as various other product applications. Size and process, you can offer a product that is tailored to your needs, such as the surface orientation and thickness.

Monitor wafer
Dummy grade wafer
Epitaxial wafer
-Glass Substrates-

We offer a variety of glass substrates combined with the shape you wish.

Blue plate glass (soda glass)
Borosilicate glass
SCHOTT Inc. TEMPAX Float, CORNING, Inc. PYREX
White plate glass  SCHOTT Inc. B270, BK7
Alkali-free glass  CORNING Inc. EAGLE XG
-Various composite substrate-

We, SOQ substrate (Silicon on Quartz), have been made the handling of SOS substrate (Silicon on Sapphire).
Silicon photonics, optoelectronics, be applied to applications such as RF device is expected.
SOQ, also because it responds to the consultation for composite materials other than SOS board, do not hesitate to contact us.